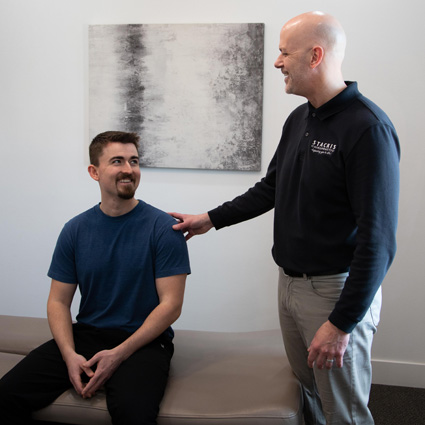 New Patients at Stackis Chiropractic
You will immediately feel at home the moment you walk in the door.
If you're coming in to see us for the first time, we'd like you to know exactly what to expect. We want to provide you with an exceptional experience and will make sure that you feel welcome and supported every step of the way. Our office is often described as warm and friendly. We hope you agree.
CONTACT US

Your First Visit
As you enter the office, you'll be warmly greeted by Linda, or Dr. Jeff himself. You will be escorted to a private consultation room, where you can sit down and relax while you fill out your patient intake forms. Dr. Jeff will then conduct a thorough assessment, including:
A consultation to discuss your health concerns and goals.
An examination to determine the cause of your health concerns.
X-rays, only if necessary
Upon completion of your evaluation, Dr. Jeff will review your examination results, followed by recommendations and treatment options. You'll then be able to receive your first chiropractic adjustment.
Ongoing Chiropractic Care
Regular visits are convenient and efficient and usually take no longer than 10 -15 minutes.
Once we've managed to help reduce your pain and stabilize your problem, you may opt to receive ongoing chiropractic adjustments, usually referred to as wellness care. The purpose of this care is to maintain your spinal correction and keep you feeling good with optimal function. Wellness care, however, is your choice.
We're here to help our patients live a better life. We work hard to gain your trust, and part of that trust is respecting the decisions you make when it comes to your health.
Schedule an Appointment
Our office is here to serve. Adults and children alike look forward to their visits, and we'd love to welcome you to our close circle of patients. Contact us today for a free consultation!
CONTACT US

New Patients at Stackis Chiropractic | (563) 583-9634